Once again, in an effort to thin out the number of tabs on my poor little old computer browser, here's another batch of uutterly unrelated items that I have not been able to get around to reading, or blog about, or just close the tab. In no particular order:
---
1. Social Justice Warriors
The team Stan Lee really wanted to create.
By someone on Deviant Art perhaps, but I can't track who
Also don't know who to h/t for the link. Thanks, whoever.
---
2. Welles's Final Masterpiece Reborn
But suddenly and seemingly impossibly, a resurrection has occurred. Long thought to be a lost film, "The Other Side of the Wind," Welles' last feature, was released by Netflix on November 2. It is astounding, a stunning echo and assault on "Citizen Kane," a defiant statement of absolute artistic integrity thrown into the face of an industry that so often seems intent on destroying precisely that, an aesthetic triumph and a final work of devastating emotional power. It leaves the viewer shattered and somehow elevated by the experience.
h/t J.J. Sefton on the Ace of Spades Morning Report
---
3. When an Asteroid Hit Iceland
An enormous crater believed to have been caused by an asteroid that slammed into Earth 12,000 years ago has been found beneath the ice in Greenland.

The 19-mile-wide impact had remained hidden under a half-mile-thick sheet of ice until it was exposed by a state-of-the-art radar system at the University of Kansas.
h/t Kindltot commenting on Ace of Spades
---
4. Chico is Leaving It All On the Field
"Hey, I do this job every day in this store. It's my assigned task and usually its okay but I only do it for the money because it gets really monotonous, meaningless."

She's a student, I perceive.

"But today those people really needed these clothes in this corner because of the price. And tomorrow more people like that will really need them too. And so I want to make this the best I can for them. So I'm going to put it all back on hangers and arrange them by size. It will be right by the morning. You better go. We're closing. Thank you for coming in."

Just a young girl working late in the Clothing Clearance Corner. Doing one of those little jobs; one of those jobs that actually make the world turn. She was leaving it all on the field.
—Gerard Van der Leun, American Digest
Image: ibtimes.com
---
5. A case study in actual fake news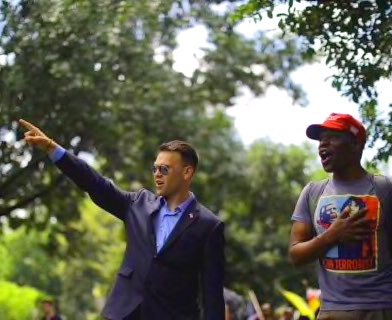 ---
6. Google Wants to Listen to Your Calls
The patent discusses the technology to analyze the background noise during your phone call and serve up ads for you based on the environmental conditions Google picks up on. Yeah, that's creepy.
Image: Affected Ryan on YouTube